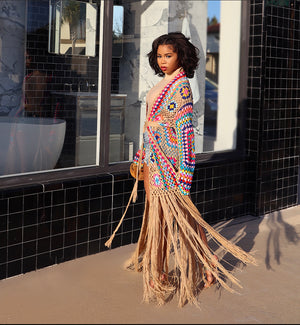 Not Your Granny's Duster Nude
Collect all 6 - Black, Red, Pink, Baby Blue, Lavender & NUDE!

AND YES, IT COMES WITH A BELT! 
Full Crochet Duster w/Fringe

Pair with your favorite denim or
belt it over a slip to wear as a dress.


The model is 5'7 wearing a small
Oversized fit. You can go down a size.
Easy to alter, the fringe can be easily trimmed for petites. No fray.

Poly/Rayon Blend
Small fits up to 5/6
Medium 7/8-11/12
Large 13/14-18/20